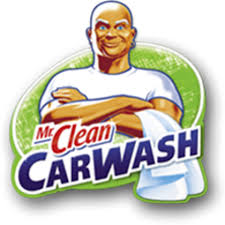 BRAND
MR. CLEAN CAR WASH
MARKETS
Atlanta, Cincinnati, Austin, Dallas
SITUATION
Mr. Clean Car Wash is the new kid on the block in Georgia, Texas and Ohio markets. The competition consists of well-established, full-service car washes, as well as do-it yourself car wash businesses, not to mention people who wash their cars at home. The PLUS factor for the Mr. Clean Car Wash franchise is its equity in its national brand, which has been around for generations. Most regional competitors in the car wash business use mailer coupons to attract customers. Some use radio remotes to drum up business. All offer coupons at the end of the car wash to entice customers to return at a future date. Mr. Clean wanted something more than a discount to compete.
CHALLENGES
The main objective was to convince automobile owners to try Mr. Clean Car Wash. Offering an incredible introductory price was only half the strategy. The other half involved using brand
ambassadors supplied by Ayden Activation Group to engage potential customers. Ambassadors were given special training to explain why Mr. Clean Car Wash was not only the best value, but also offered the best service, in clean, comfortable surroundings. Additionally, Mr. Clean needed a more effective means of reaching the target audience than traditional media, such as radio, TV, print and outdoor advertising. Ayden Activation Group had worked with the advertising agency of record for Mr. Clean Car Wash on two previous occasions, promoting the franchise to Atlanta drivers. The campaign proved so successful, it was rolled out to Texas and Ohio markets. Brand ambassadors were briefed on what makes Mr. Clean Car Wash better than the competition.
These ambassadors mentioned the 100%, 96-hour guarantee. Potential customers needed to learn that Mr. Clean uses the freshness of Febreeze when cleaning a vehicle, a fact that would mean a great deal to female customers. Ambassadors also needed to mention the various services offered by Mr. Clean, such as wash packages, express detailing services and oil change packages. It was also important that customers discover Mr. Clean is GREEN, a company, dedicated to recycling the water it uses. Ayden placed brand ambassadors in high-traffic areas, where they could hand out brochures and coupons. Ambassadors were trained to engage potential customers on a one-to-one basis. The overall goal was to get people to try Mr. Clean Car Wash just once, because that's all it would take to make them a loyal customer. To stand out, brand ambassadors wore branded t-shirts and hats featuring Mr. Clean graphics.
The plan included the following:
• Secure permission from area supermarkets to allow Mr. Clean brand ambassadors to be on the premises.
• Generate attention about the new Mr. Clean Car Wash business.
• Hand out brochures that highlight the advantages of using this unique car wash.
• Offer potential customers an extremely valuable coupon.
• Remind people that they are receiving a limited-time offer, and their immediate action is required.
• Leverage the Mr. Clean brand to instill immediate consumer confidence.
• Remind customers that the Mr. Clean guarantee means they have nothing to lose.
• Encourage potential customers that they should try this new car wash at least once.
SOLUTION
Ayden Activation Groups stationed themselves at area supermarkets, which have the highest concentration of car owners during a given time period. Over 15,000 coupons were hand delivered to
potential customers during the activations. People were receptive to the coupon offer. Most all were already familiar with Mr. Clean as a trusted brand. People remarked that they felt certain that a car
wash associated with the Mr. Clean brand would live up to their expectations. Team leaders utilized Ayden's exclusive Events Matrix application to track teams, upload photos and send recaps — all in
real time.
RESULTS
Owners of Mr. Clean Car Wash franchises reported a substantial spike in customers during the promotion. Customers were extremely pleased with the value. The coupon discount made the offer
impossible to refuse. The launch was quite successful.
STATS
4 Markets @ 12 locations
6 total activations 2 Waves – June 14-16, June 28-30
3 hrs each activation + 1 hour training prior to the start of the program.
24 Brand Ambassadors and 12 Team Leads
0% No Shows